Author: Becca @ Amuse Your Bouche
Recipe type: Snack
Yield: 3
When I cook Mexican-inspired food (which happens pretty often – you can't beat it!), I usually end up using the same few ingredients over and over again. Black beans, cheese, guacamole… my usual burritos, quesadillas and tacos are basically all the same recipe, just made into different shapes.
Don't get me wrong, I love black beans, cheese and guacamole – but sometimes it's nice to vary things a little. This time I used fava beans as the base for my taco filling. They may not be an ingredient I typically use in my Mexican-inspired cooking, but as with a lot of beans, they can be dressed up with all sorts of different flavours, so they work really well with a bit of Mexican spice.
The heat in these spicy fava bean tacos comes from both fresh chilli, which gives a slight sweetness and some nice flecks of colour, and chilli powder, which gives a deeper spiciness. If you're a bit of a lightweight when it comes to chilli, feel free to ease off on the heat, and use more aromatic spices like cumin instead.
If you do decide to go spicy like I did, don't be too cruel to yourself; add some fresh tomato to help cool your tongue. A good dollop of sour cream works really well too – the perfect balance!
I also added some mushrooms, spring onions and sweetcorn to the spicy fava bean mixture, but feel free to adapt the recipe depending on what veggies you fancy (and what you have in the fridge to use up!). All sorts of vegetables could work in these tacos – peppers, onion, courgette (zucchini), or whatever else you have in the house. Just chop up your choice of veg and add it to the pan with the mushrooms to cook.
This recipe makes four tacos, so it can feed either two or four people, depending on how hungry (and how greedy!) you are. If you're just serving the tacos on their own, two per person is about right, but if you want to stretch the recipe to serve four, make some Mexican rice or a big salad to serve alongside. Delish!
1. Boil the fava beans in a generous amount of water, until soft – around 20-25 minutes.
2. Meanwhile, heat the oil in a large frying pan, and add the chopped mushrooms, garlic, spring onions, sweetcorn and red chilli. Cook over a medium heat for 5 minutes, until soft.
3. When the fava beans are cooked, drain them and add them to the pan with the vegetables. Also add the chilli powder (to taste), smoked paprika, and plenty of salt and pepper. Cook for 5 more minutes, stirring regularly.
4. Serve the spicy fava beans in flour tortillas (or crispy taco shells, if you prefer) with chopped tomatoes and sour cream.
Author: Becca @ Amuse Your Bouche
Recipe type: Snack
Yield: 3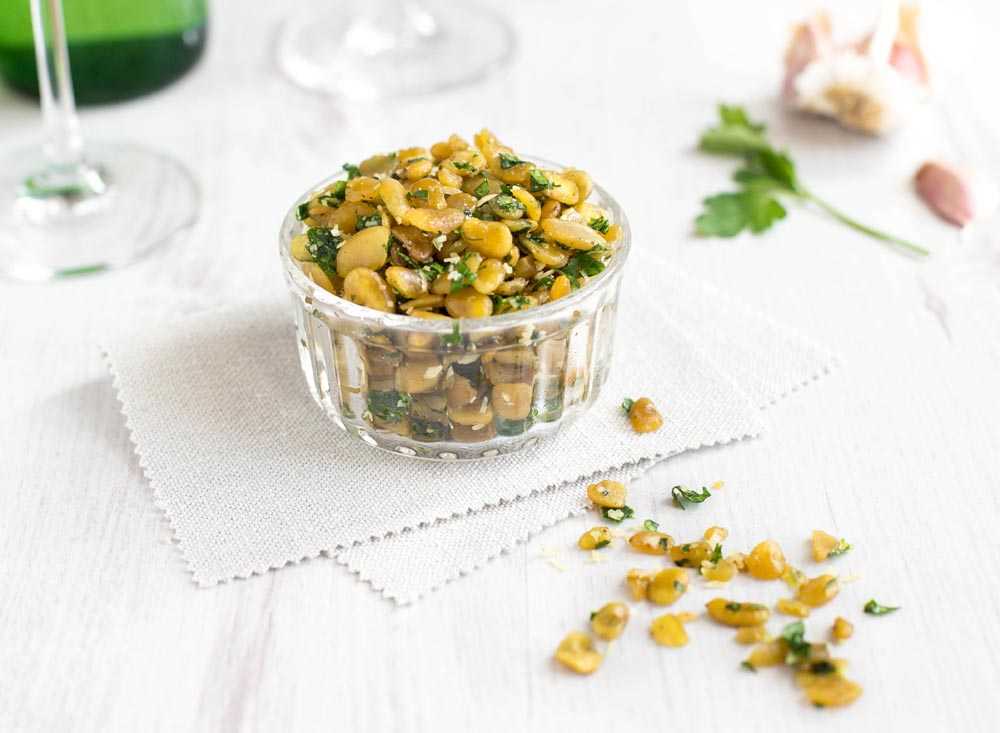 My husband and I often have friends round for dinner, and while it's tempting to revert back to the kind of dinner parties we threw as students (usually a bowl of crisps followed by pizza and beer… and then maybe some more beer), there comes a time when you want something a bit classier. Now that I'm officially in my late twenties (sob!), the beer has been replaced with a nice bottle of wine, and the pizza has been replaced by a healthier, homemade meal.
I still like to serve a small snack for people to nibble on as they arrive, but crisps just don't cut it any more. They're too obvious, they're unexciting, and they're not going to impress anyone.
These crispy roasted fava bean chips are one of my favourite alternatives for those times when you want to serve something a little bit more unusual. You can flavour them however you like, and they go beautifully with a glass of crisp white wine. A classier way to get your crunch fix!
These fava bean chips are nice and easy to make, so they won't add much stress to your day. Just boil up some dried split fava beans for 20 minutes or so, then roast them until they're nice and crispy. It's mostly hands-off time, so you can be getting on with preparing dinner – or if you're anything like me, tidying the house in preparation for your guests. Once the chips are roasted, toss them with your choice of flavourings. I like smoked paprika, finely grated parmesan cheese, or even just simply salt and vinegar.
This time I went for parmesan cheese, but also added some fresh herbs and garlic for an extra pop of flavour – a classic combination that's a real people-pleaser. The end result can be summed up in three words – 'just one more'. They're super moreish, and I promise you, your guests won't stop eating until the bowl is empty!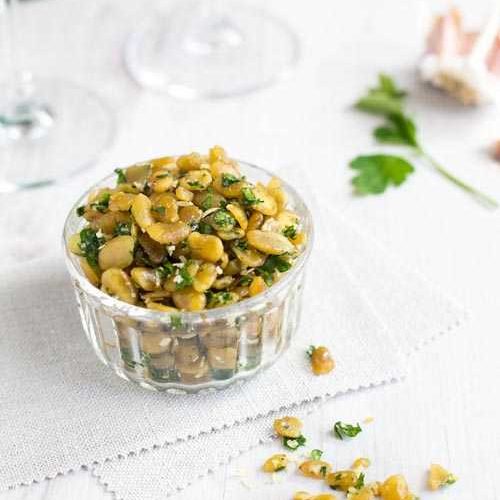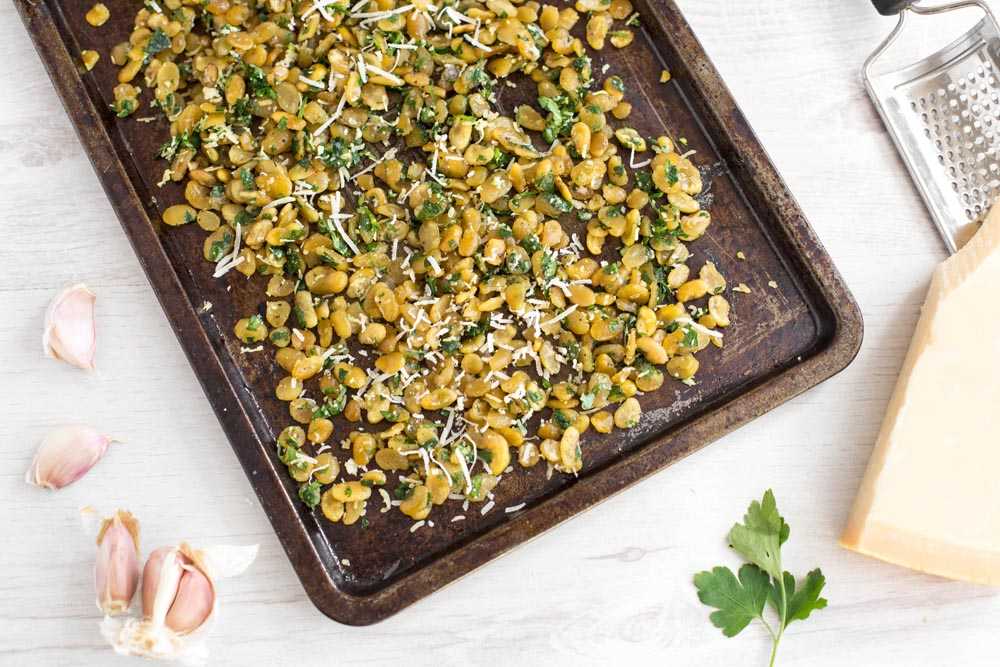 1. Boil the dried split fava beans in plenty of water for 20 – 30 minutes, until they are fairly soft but still holding their shape.
2. When cooked, drain the beans, and toss them with a little olive oil and a good pinch of salt and pepper. Spread the beans out on a baking tray (in a single layer if possible), and roast at 190°C (Gas Mark 5 / 375°F) for about 35 minutes, until they're fairly crispy, and just beginning to turn golden. You'll need to stir the beans every 10 minutes or so, to ensure they cook evenly.
3. Sprinkle the parmesan cheese over the beans, and toss to coat. Return to the oven for a further 5 – 10 minutes, until the cheese is crispy and the beans are golden brown. Remove from the oven, and leave to cool.
4. Add the small clove of garlic and the fresh herbs to a mini food processor, and blitz until finely chopped. Add the olive oil, and blitz again to combine.
5. When cooled, add the cheesy roasted fava beans and the herb mixture to a bowl, and mix well. Serve at room temperature.
CHIPOTLE FAVA BEAN HUMMUS​
Author: Becca @ Amuse Your Bouche
Recipe type: Snack
Yield: 3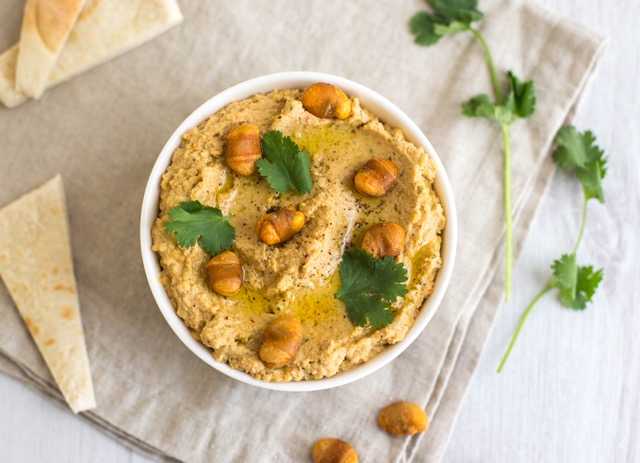 Have you ever made your own hummus? It's so easy, and it tastes amazing. You don't need any particularly fancy ingredients – just throw everything in a food processor, and you've got hummus! This time I used fava beans instead of the usual chickpeas – fava bean hummus makes a really nice change, and it's just as delicious!
I like to start my hummus with a clove of garlic and some fresh herbs. Remember the garlic is going in raw, so choose a small clove unless you're feeling particularly anti-social. As for herbs, you can use whatever fresh herbs you have on hand – anything will work. This time I went for fresh coriander (cilantro), as it goes really nicely with the spicy chipotle flavour.
Another standard ingredient in hummus is tahini, which is a paste made from sesame seeds. It's kind of the peanut butter of the seed world, and it helps to make your homemade hummus nice and rich and creamy. If you've never cooked with tahini before, don't be intimidated – it's easy to find in most good grocery stores. Unfortunately it doesn't taste quite as good straight out of the jar as peanut butter does, but once it's in your hummus, you'll be glad you sought it out.
You can flavour your hummus however you like. I picked up some chipotle paste a while back which I've been dying to use in hummus, so that's what I did here. If you can't find chipotle paste, just use chipotle hot sauce instead. I also added a few sun-dried tomatoes, mostly just to give my chipotle hummus that beautiful red colour. What can I say, I eat with my eyes.
Once you've got a hummus recipe you're happy with, it's time for garnish! Hummus may taste delicious, but it can look a bit ugly if you're not careful. An easy way to transform hummus from a bowlful of unappetising paste into an enticing appetiser is to bring it to life with garnish. It's a good idea to use your garnish to showcase some of the ingredients you used in the hummus, so I topped mine with some more fresh coriander, and a few Nuttee Bean™ spicy roasted fava beans. They add a great crunch, and they're perfect for nibbling on the side too.
Set out a bowl of this tasty chipotle hummus at your next party and the bowl will be empty within minutes!
1. Boil the dried fava beans in plenty of water until soft (around 15-20 minutes). Drain thoroughly, and set aside to cool.
2. Add the garlic clove to a food processor, along with the chipotle paste, fresh coriander, and sun-dried tomato pieces. Blitz until well chopped.
3. Add the tahini and cooled fava beans, and blitz again until no lumps remain. Season to taste, and blitz until completely smooth, adding enough water to bring the hummus to your preferred consistency.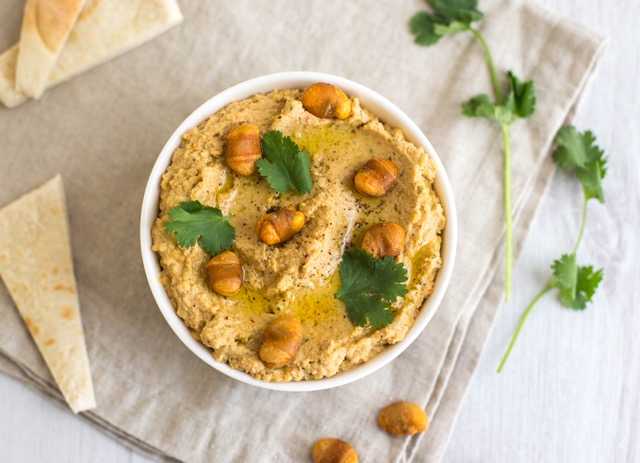 SPINACH SPICY CITRUS #SUNDAYSALAD WITH SPICY NUTTEE BEAN™ FAVA BEANS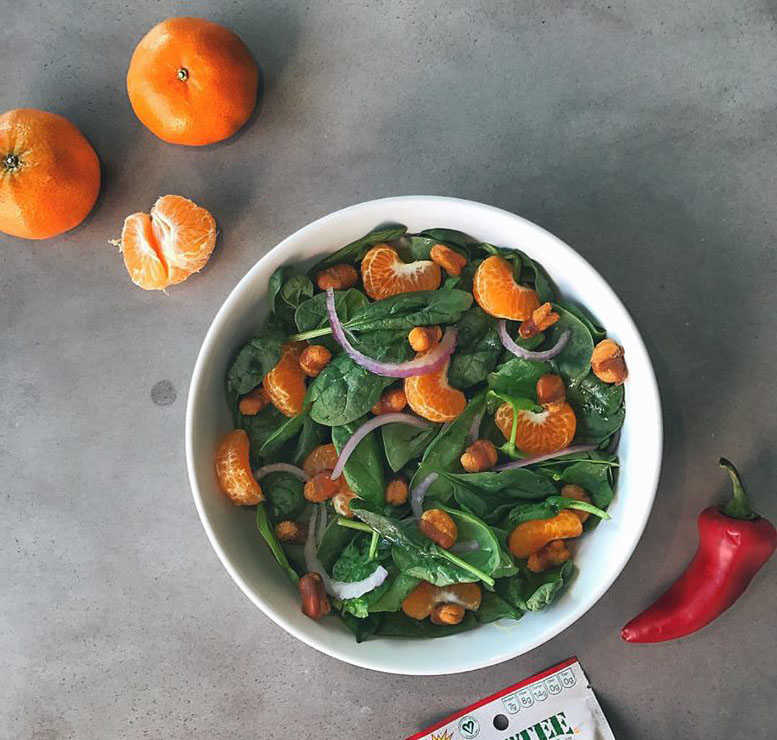 Between the sweetness of the mandarin oranges and the spicy Nuttee Bean™, flavor explodes in each bite of this salad. Top it off with Chinese five spice mustard dressing to really make your taste buds happy.
1. Combine reserved liquid from mandarin oranges, olive oil, mustard, cloves, and Chinese five-spice powder in a jar with a tight-fitting lid; seal jar and shake vigorously until the dressing emulsifies.
2. Season the Spicy Nuttee Bean™ with rosemary and cayenne pepper.
3. Toss spinach leaves and green onion together in a large mixing bowl; top with mandarin oranges and pecans. Drizzle dressing over the salad to serve.